The Ribbed slab (UBC 1816) or PTI design method was developed by the Post-Tensioning Institute from an earlier effort made by the Prestressed Concrete Institute that had been based on research by the Building Research Advisory Board of The National Academy of Sciences in the 1950's. In addition to structural loads, design criteria in the form of anticipated soil movement is required from the Geotechnical Engineer. The design is then computer generated resulting in a typical 4 or 5 inch thick slab that is continuously cast with deepened perimeter and interior beams placed in a grid pattern within the structures footprint.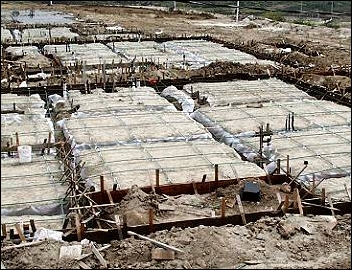 Shown is a ribbed slab prior to concrete placement
The arrangement of the beams and their depth is determined by the anticipated movement numbers. When properly constructed the finished slab foundation is quite rigid and if conservatively designed, the deflections induced by adverse soil behavior are relatively minor.